Some books are a welcome breath of fresh fall air. Robert Couturier Designing Paradises is a luxurious world vacation in a smooth hardbound cover. Robert is just so incredibly likable and dripping with style that he can't help but radiate through the pages of the book via his imagery and stories.
Let's focus on the designer first before delving into the book. Have you seen his handy 10 tips for being a legendary designer? Allow me to quote his curbed feature:
Back to this book exploring the famed designer's work... it's delicious. The book patiently covers one sprawling escape from reality at a time. The special treat inside was seeing Robert's own paradise featured front and center. It's interesting to see how someone creates spaces for others, it's another case entirely to see where he (or she) sleeps and the table at which meals are shared with loved ones.
Robert's own private country retreat has all the elements of style one comes to expect from a distinguished designer with impeccable taste. Heirlooms, prized vintage pieces and adorable pups everywhere you look and of course - bucolic views of the property from each and every window. Talk about a fabulous place to retreat from the intensity of one's work.
But in Robert's case, when work calls you to all corners of the world to create spaces of tranquility and visual beauty for longtime clients, you might say your occupation is in and of itself an escape from "real" life. Take, for example, the winter house by the sea in Mexico. I was smitten not only with the scale of the home, but with Robert's take on location-specific architecture. Classical in its roots, this dramatic home embraces the landscape and offers sweeping vistas from every room of the natural beauty surrounding it. I love how the checkered pool bottom mimics the same design inside the round sunroom. Shuttered windows open wide to welcome in the sunshine and salty air. How is this not the home of architectural fantasy and hours of daydreaming behind an office desk?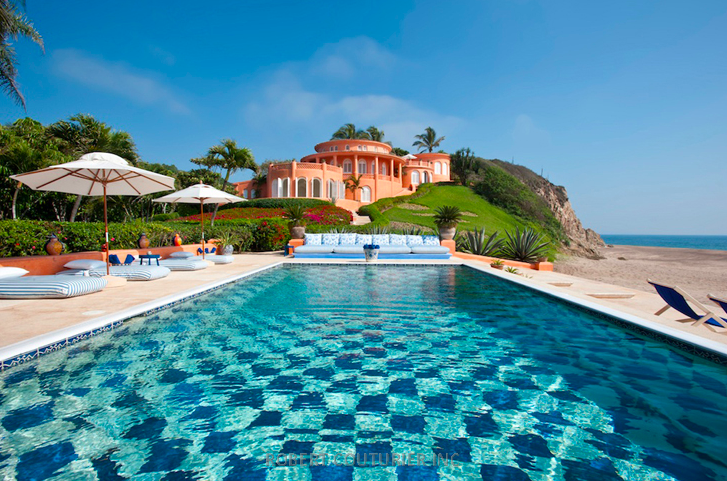 This book will inspire you to reach beyond your present idea of how you spend your leisure time. Grab a copy of Robert Couturier Designing Paradises and curl up with your tea, your sketchbook and expect to find yourself mapping out a far more thrilling plan for your future.