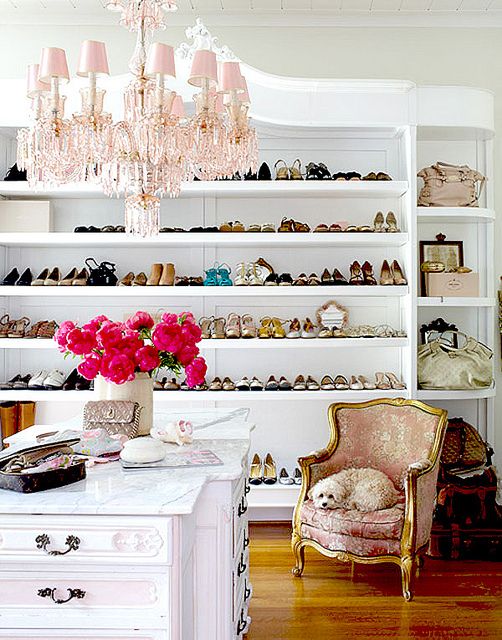 Regular readers will know that I'm big on the care and maintenance of things acquired. I don't much see the point in owning quality pieces (be they in the dining room or the closet) without making the commitment to treat them well.
My favorite handbags are emptied, bagged and shelved after use. Shoes are returned to their shelves. Denim is placed back with the other jeans. Necklaces are hung after use. Why? I take pride in my organizational skills and my closet is a unique showcase where those OCD tendencies shine brightly. To me it only makes sense to keep my wardrobe tidy and well preserved for longevity and basic respect for the work I've put into building it.
What are my favorite tools of the trade? Matching hangers go a LONG way in bringing visual unity to the closet. Invest in good hangers and expect to order more than you might guess. Mine are wooden with grooves for dresses and blouses. Next, assign a drawer for jewelry. Unmentionables are best kept in drawers with faintly scented liners. It makes it a pleasure to get dressed. Personally, I do not like keeping shoes in bins or boxes. Leather needs to breathe. Boots are best preserved if hung, and these little boot hangers from Organized Living do the trick for very little cash.
Lastly, for open surfaces in your dressing area I love to add pretty lidded containers and a tray. Place trinkets and special objects in them. I have a box that holds dried rose petals from a bouquet my husband gave me on our first Valentine's Day. It's a small thing, but a special one. And that's the key... personalize your closet and make it uniquely yours. Create a space you love to see each day.
What are some of your favorite closet-keeping tips & tricks?