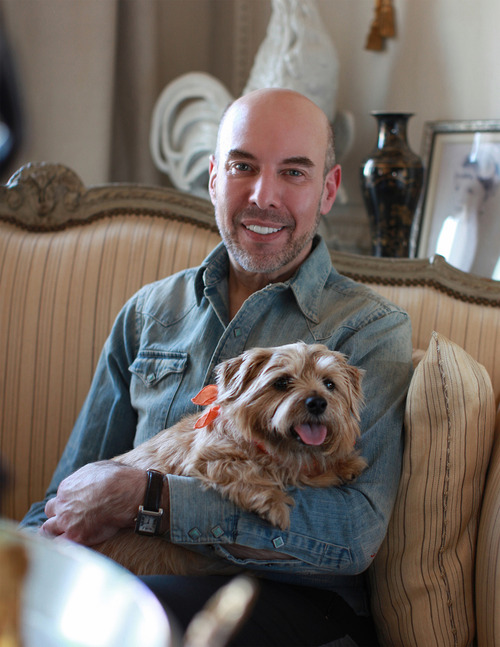 Today I am excited to share with you a very special book: Howard Slatkin's Fifth Avenue Style. Nothing about this book is like any other publication I own. First, let me share that it arrived carefully wrapped, ribboned and wax-sealed. A personal note was even attached, a reminder that time-honored traditions like handwritten cards are a must. Especially today. (Thank you, Howard!)
But the true feast for the eyes (and the mind) was inside. I've actually never seen an inside cover quite like this one. Fifth Avenue Style offers readers a meticulously detailed floorplan of Slatkin's spacious Manhattan apartment, with more detail that I might be able to offer of my own home. Fans of his work know that Howard believes the home should be deeply personal. Merely decorating your walls and selecting furnishings won't do. Yet it is not until you peer inside his private retreat that you fully understand how passionate he is about the topic and the full breadth of his intention.
Two things I can assure you: 1) Howard possesses extremely sophisticated style and has an eye for beautiful crafted objects. 2) You do not want to help this lovely man move! The collections of art, antiquities, books, objets d'art, furniture and other impossibly pretty things makes me hope for Howard's sake that he is able to live in this stunning Fifth Avenue residence for his entire life.
Diving further into this beautiful book we are reassured that Slatkin is a man who knows how to embrace life. Fifth Avenue Style is peppered with loving details of his personal journey making his house a home. He offers you detailed photographs and design notes on nearly every detail of the home. Doorknobs, drawer pulls, drapery rods - no detail is too small or insignificant. More importanlty - he has carefully considered the look and function of each. This tome is loaded with valuable insight from mistakes and successes in feathering his opulent nest. yet one can argue that the real lessons offered here are just beneath the surface. Howard Slatkin has created a one-of-a-kind environment for himself. There's no mistaking it for anyone else's home. Anywhere. It truly reflects his passions, his interests, his love of his collections, his journey.
Fifth Avenue Style's real lessons are on the topics of commitment and maximizing opportunity. He has designed every detail of his home to the exact specifications he prefers. Rope detailing on fixtures, fabric designed especially for a specific room, collections carefully placed at eye-level for enjoyment and easy viewing. It is a spectacular homage to his love of life and the craft of design.
The book has shown me that there is joy to be found in fully committing to the design of your home. No other building can ever have the emotional impact upon you that your private space possesses. Holding back on designing it to your wishes is only denying yourself personal pleasures and creature comforts that are within your grasp. Any why, dear friends, would we ever want to deny ourselves that joy?
For a design book unlike any other, I urge you to treat yourself to a copy of Fifth Avenue Style. It will wow you on multiple levels and alter your existing definition of residential interior design. For instant satisfaction, follow Howard's Instagram account. You'll be privy to his ongoing hunt for the visually sublime. (Also, his followers are treated to the occasional pic of everyone's favorite pup Winnie. Which is always a joy!)
Those personal items you have? Put them out. Photos? Put them in frames. That custom wall treatment you've considered? Do it. Commit. Release the restraints you've had on yourself and go for it. There's truly no other place in your life like your home. Make yours marvelous.
{images via}