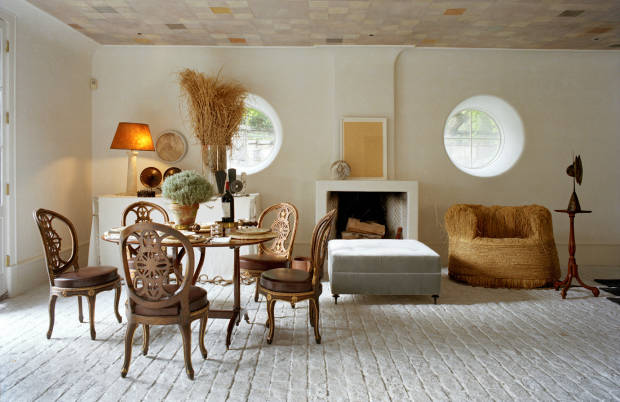 Stephen Sills. Where to begin?!? This AD100 designer is a master of the world of interiors and his portfolio of work reads much like a group of fingerprints: no two are alike. At all. In fact, there seems to be no visual "calling card" or common denominator in Stephen's work other than his ability to attract clients who value magnificent and important works of history and art. In reading his latest book Decoration I am grateful to be given both an up close and personal look at his designs and the treasured collections of precious works owned by his clients. As an art history lover, I cannot underestimate the way in which both are beautifully displayed in the book!
While I'm smitten by projects like those for couples living in Manhattan apartments or Colorado escapes, it was his own home in Bedford that stopped me in my tracks. The outdoor living areas alone on this magnificent private property were enough to transport me to another country - if not another world. Manicured hedges, columns rising out of the ground to anchor a tranquil pool, French urns and ivy-covered walls call to mind a less formal gardens at Versailles in Paris. Somehow all of this formality seems aged and relaxed. It is as if it has been time worn and rediscovered. Coming home to this magical place must be the source of much calm and creativity.
Above all, there's an importance to his work and a feeling that Stephen is able to let each item shine in its own glory rather than forcing a look at all. There is an easily detected sense of honor for his clients' wishes and possessions and passions that seems to govern his work. In reading the book, this insight is reinforced. The chapters celebrate the clients and their cherished possessions. His ability to effortlessly honor both in his designs is nothing short of impressive.
If you're looking for an amazing book about a truly gifted designer, Decoration is a must. You'll have a renewed passion for art in its many forms and beautiful (pedigreed and not) pieces of furniture. Most of all, you'll come away with a humbling respect for the brilliant work of Stephen Sills.