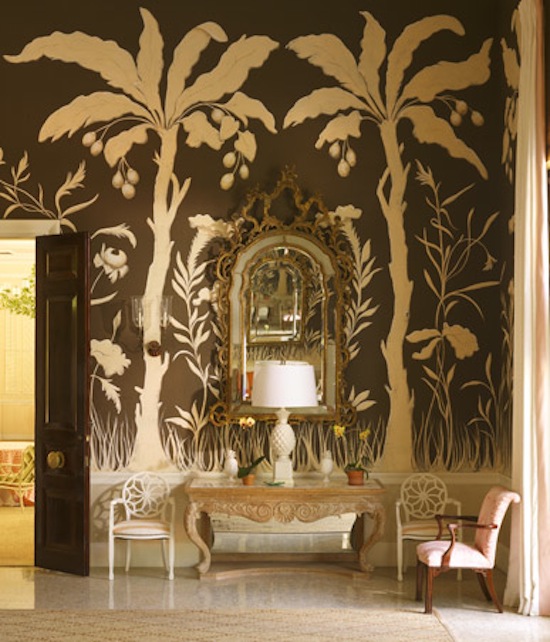 Today's featured interior designer goes without introduction. Most in the design industry or anyone who blogs about design is likely very familiar with the talented Mr. Tom Scheerer. To the few who can't quite place his name, I'll simply offer an image or two of the Lyford Cay Club in the Bahamas featuring the now famous Quadrille wallpaper. Ahhhh... yes, now you know the designer. And you know he's positively amazing.
Written by Mimi Read, Tom Scheerer Decorates is a celebration of the designer's body of work to date. Unlike most tomes broken up by room type or project, Tom's is categorized by location: city, country or seaside. Using the aforementioned Lyford Cay as an example, I'd say some of his more familiar projects take place among the palm fronds of more equatorial locations. Tom's portfolio is incredibly varied though, and he executes chic city design & refreshing country interiors every bit as well as those infamous beach properties.
While noted for eschewing pomp and circumstance in his design, his spaces still offer that magical "wow" factor. There is a sense of grandeur to Tom's understated elegance. That stems largely from the natural elements and lively patterned fabrics that are repeated throughout his work. Both of these featured help a space feel warm and inviting - not too perfect or stiff. The tension between raw natural fibers and formal design elements hits just the right aesthetic balance.
Organic fibers, especially the way Tom incorporates them into his vision, lend marvelous texture and build a visual bridge between indoors and out. Whether it's an exposed beam ceiling, a pair of woven cane chairs or a sisal rug, Tom grounds amazing interior and residential spaces with elements of nature right outside the doors.
His fuss-free yet luxe designs create an inviting quality in his work that surely endears him to his clients. The ability to deliver showstopping rooms that allow living in an elegantly causal manner is a gift not all designers enjoy.
Add this incredible book to your must-have designer book library. Mimi beautifully explores Tom's unique approach to effortless chic living and fills the pages with insights and ideas for all who care to read them. This gorgeous hardback book will be a treasure for years to come when seeking inspiration or simply craving a glimpse into a magical world of fine interior design.
{images via}