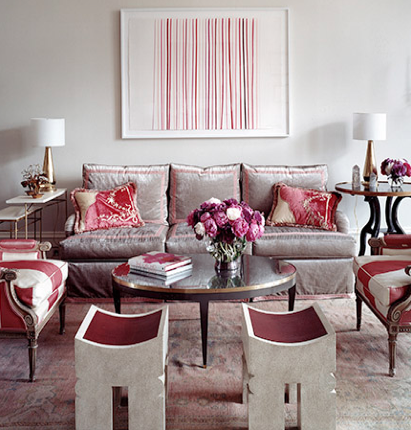 Nothing personalizes a room like art. It establishes your taste. It indicates your passions. It delights you. It intrigues you. It pleases you. With all of these great reasons to surround yourself with artwork I'm surprised so many of us don't. Affordability is no longer an excuse thanks to outlets like eBay and etsy where aspiring (read: sensibly priced) art can be found. In terms of judging good art from bad, the only thing that matters it speaks to you.
For many years my true art passion was sculpture and black & white photography. Lately, however, I feel so moved by color. I'm inspired to move to the canvas and fill my walls with pieces I create. I love charcoal sketches. I adore figure drawings. I love line art and fashion illustrations. If you can frame it, hand it or stretch it onto quality canvas I'm in heaven.And it's a skill I've let slide sue to work, interests, growing up, being busy... you name it.
As I surfed for fabulous images to illustrate my point (in more ways that one) I came across Tobi Fairley's 2011 goals. Amazing how similar hers were to mine. I've noticed all of my blogger/designer girlfriends are fiendishly working, building our brands, barely taking time to breathe. We are self-professed high achievers. We set goals and we accomplish them. We want it all and we are going for it. We're investing our hearts and souls into our work - our passion - but we're often losing that balance (or at the very least the sleep) we so desire.
This year I commit to spending more time pursuing my passions (creating art, making more time for photography and creating Blurb books from the best photos) and seizing the moment. The days flew by last year. I don't want that to happen in 2011. I want to be present. I want to be in the moment. More importantly, I want to document my life and adorn my walls with evidence of a life richly lived.
For me, art does this. Painting does this. Sketching delivers this. I'm away from the laptop. I'm in my "element" and I am in the zone. It puts me under somewhat of a spell and helps me tap into parts of my brain that I am often to busy to hear. Right now I need that kind of an outlet.
I've found that by stepping back for those moments to be in my own element I am actually more alive, more present and more engaged when I'm with others. It isn't a selfish act at all. In fact, it would be more selfish to not pursue those interests and tap into my true creativity.
If you've abandoned a passion of yours lately due to a busy schedule or mismanaged time, it's time. Write that book. Make those calls. Take that trip. Wherever you passion leads you - follow. Your work, your family and your friendships will all be enriched by the journey.
{images all via Suzanne Kasler's portfolio... she understands the power of art to transform a life and a space}