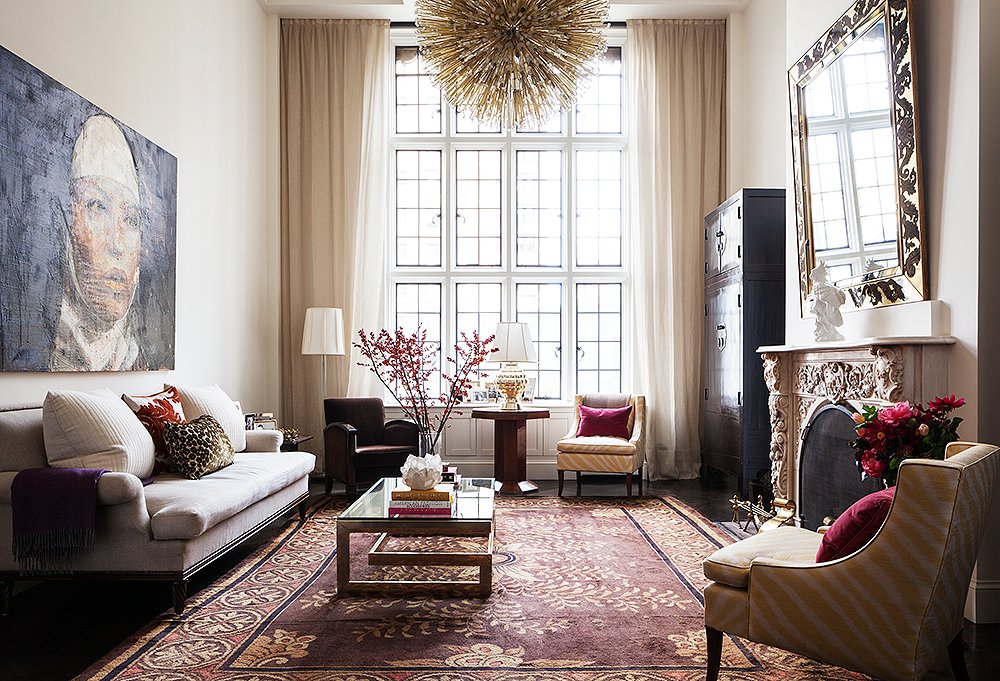 I have long been an obsessive fan of the brand Milly and the adorable designer behind the pretty dresses & accessories. Designed for "modern girly girls" as I like to say, every piece of her collection I own makes me endlessly happy. From small clutches to incredible dresses, this is a woman who understands how women like to feel when getting dressed. We want to feel incredibly feminine, yet relaxed and comfortable. And why shouldn't we?
Fashion and interior design being inextricably linked, as they are, discovering her stunning Madison Avenue apartment makes me crush on her even more. It too offers her signature blend of posh glamour and unexpected touches. While it was interesting to see that she has far more edge to her personal environment (I'm looking at you, oversized nun painting!) I have to admit to adoring her romantic flourishes and visibly feminine surroundings. Again we see that relaxed yet dressy mix I've come to about Milly. her Upper East side pad is layered in deep pinks, aged finishes, ornate details and pops of exotic leanings here and there. Please join me on a virtual tour of Michelle Smith's elegant home, won't you?
What you'll find in her home, a collaboration between Michelle and architect Anik Pearson and interior designer Shaun Jackson, is a lived-in environment ripe for family evenings, friendly gatherings and cozy nights in. Just as her fashion offers a "certain something" to our wardrobe, her home possesses the same je ne sais quoi thanks to imperfect antiques and carefully selected pieces. Nothing is forced. Nothing is overdone. Everything is just right and begging to be enjoyed. I hope you'll be inspired to add your own feminine elegance to your home via a sultry mix of weather worn elegance and signature touches all your own.
MAKING MILLY YOUR OWN