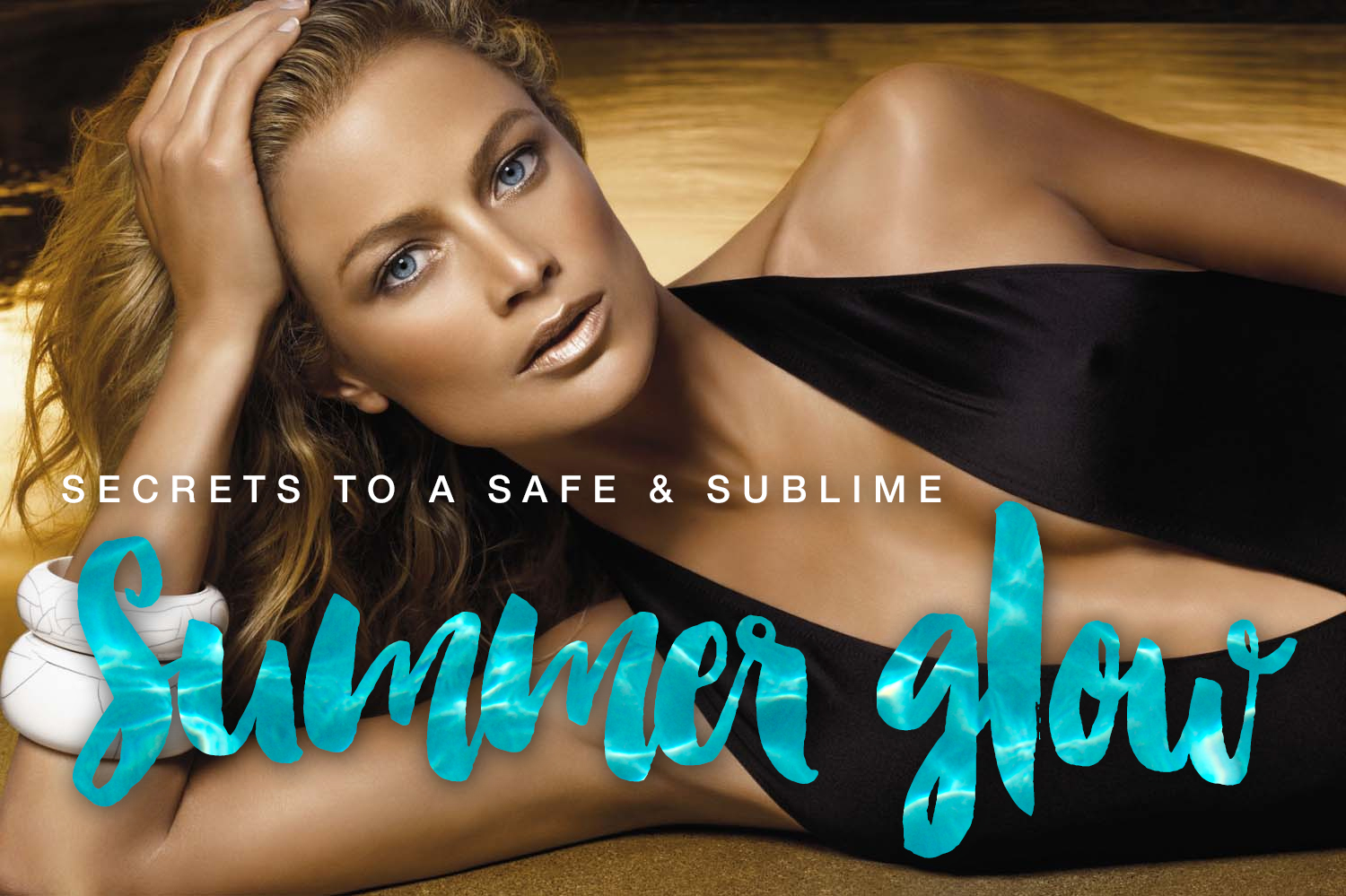 Growing up in the Carolinas, "safe sun" meant slathering on Hawaiian Tropic SPF 4 body oil as we baked on the beach or the patio. If I could go back in time to my younger self it would be all chatter about "sunscreen, sunscreen, sunscreen" (none of which teenaged me would understand).
Fast forward to today and I am as sun-savvy as it gets. Thankfully we are blessed with a BOUNTY of luxurious beauty products on the market that pamper the body, support healthy skin and deliver the most dreamy St. Tropez worthy glow a girl could ever dream of having. Bye-bye harmful rays, we're hitting our beauty drawer for everything we need to achieve that sexy & sublime summer color - absent of any UVA/UVB rays.
What am I loving? The newest brand on my radar is Vita Liberata. Touted as "the best—and longest lasting—self tanner in the world" this remarkable collection of bottles & potions deliver streak-free, odorless, deeply hydrating color via a mix of organic botanicals and a unique Moisture Lock™ system that actually draws water to the skin's surface - giving your skin that coveted glow typically reserved for magazine spreads. Whether you want a subtle and gradual tan or want a deeply bronzed look by nightfall, Vita Liberata has you covered.
But I do have a few there tricks up my sleeve for smooth skin and a cabana-ready body. Here we go:
FIRST: SMOOTH IT OUT
Don't expect to tan and go. The secret to silky skin and buttery smooth legs is dry brushing, exfoliating and prepping with a lotion loaded with lactic acid & humectants to facilitate cell turnover and leave skin ready for your tanning products. I will tell you that I have looked F-O-R-E-V-E-R for a body brush and finally found "the one" at Net-a-Porter. Read any supermodel or fitness interview and they all tell you they dry brush regularly. Not only does it get your lymphatic system moving, it eliminates puffiness in the limbs. I highly recommend you give this a try. Did I mention it's only $24? Enough said.
SECOND: GET YOUR GLOW ON
A day or so after your full body prep, I like to apply a sunless tanner mousse. Using a good mitt you an ensure a streak free application without risking the dreaded "tan hands" situation. A more gradual approach would be to use a self-tanning lotion that slowly develops color over a few days. My preference? I'm loving the Vita Liberata pHenomenal 2-3 week tan. It's a mousse, and when applied with the mitt it's pretty much goof proof. LOVE IT.
THIRD: HYDRATE & PROTECT
I love a good moisturizing routine. Matte skin isn't chic, so keep yours dewy and hydrated with daily moisturizers. Don't forget to spray on the SPF regularly every day. Those dashes to the car count as exposure, so don't kid yourself into thinking you are indoors all day. A little oil on the legs, a little bronzer on your collarbones and shoulders plus an emollient sunscreen mist will do the trick. I'm loving this Neroli & Argan Milk SPF 50 fine mist. Protection perfected.
Now you, my darling, are a bronzed goddess who is actually babying her skin and treating her body to a spa treatment all while looking darn good doing so. Looking for that sun-kissed appearance for your face? Don't miss this post where I share my secrets to achieving a radiant glow on your fabulous visage. Happy (sun-free) tanning!
YOU MAY ALSO ENJOY