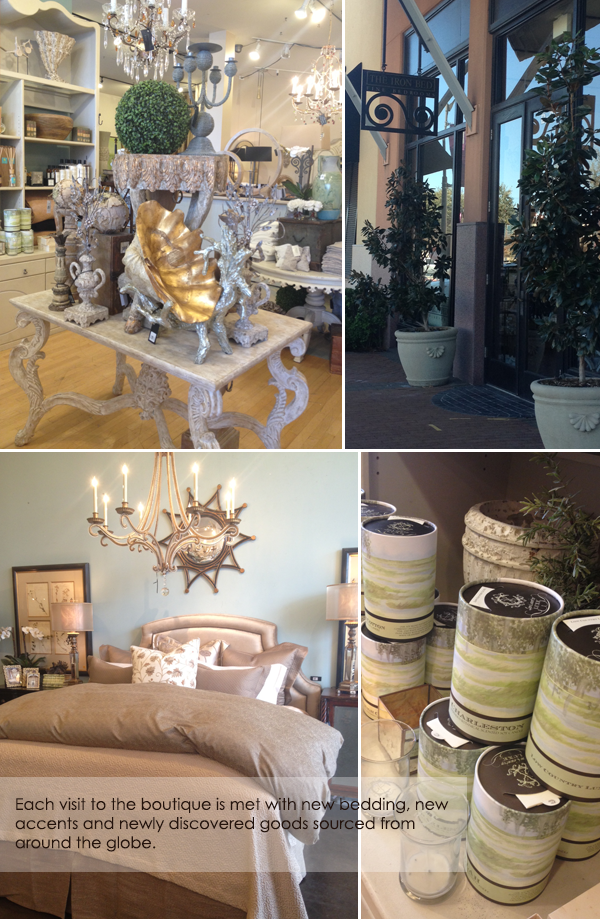 One of my most indulgent guilty pleasures is spending time in a nearby boutique known as The Iron Bed. How do I describe this dreamy, upscale experience...? It's heaven on earth. Seriously. One pass through the store has the calming equivalent of a good night of sleep and a hot yoga class. There's an ease and a grace to the store, which is atypical of most retail experiences.
While the name might imply that sell the obvious, iron beds, they are so much more than that. They do have lovely plump beds throughout the store adorned with the most marvelous luxury textiles, but they are a mere portion of what is available. Imported French home fragrances, Hickory Chair pieces, plush linens, SDH bedding, Bliss Studio pillows and a bounty of other ultra luxurious lines round out their product mix.
To say that I love this store is an understatement. I could almost literally live there, it is so uplifting. I credit this to head interior designer, Breanna Davis and her creative point of view. You see, The Iron Bed is not merely a lovely Plano boutique for procuring lovely decorative objects. They offer personalized interior design services as well.
Breanna is the interior design talent to credit for the magical environment. Her aesthetic is refined and undeniably European in nature, but never fussy or forced. The resulting look of the store is a lovely melange of glistening and gorgeous pieces that seem to just fall perfectly into place in this dreamy little boutique.
In addition, she is surrounded by a wildly talented and attentive team. I've never been in a store that caters so attentively to their clientele. Each designer on staff is incredibly knowlegeable, imaginative and eager to volunteer ideas or show you hidden gems you might have missed along your path.
Whether you're seeking those special accents to finish off a project or you're in the mood to completely rethink your home's interiors, you're guaranteed to find a sophisticated French-inspired solution to your design woes at this luxurious little shop.
One thing is clear, The Iron Bed offers something to their client base they won't find elsewhere. Those of you seeking and inspired one-of-a-kind look will be delighted with what you discover inside the glass doors of this shop. It's simply marvelous. Trust me.
Call them at 469.232.9880 or visit them online for a closer look at their intoxicating melange of offerings.