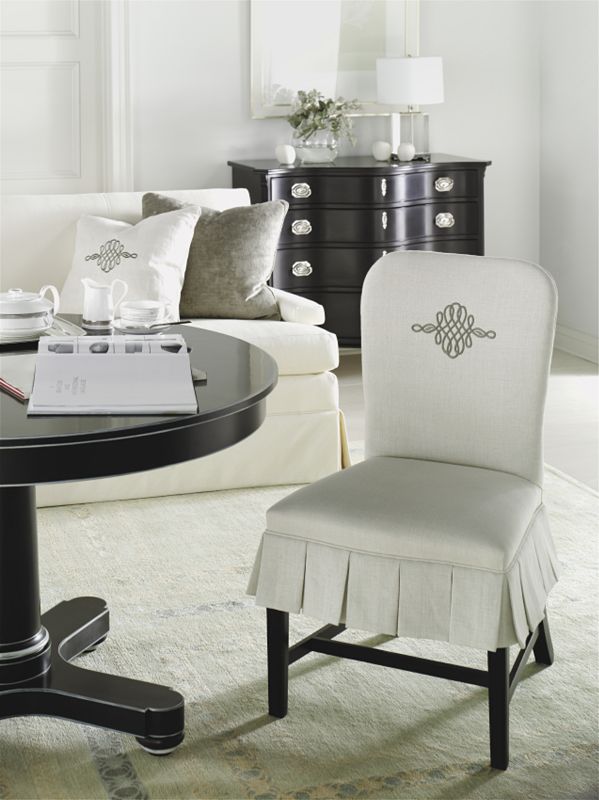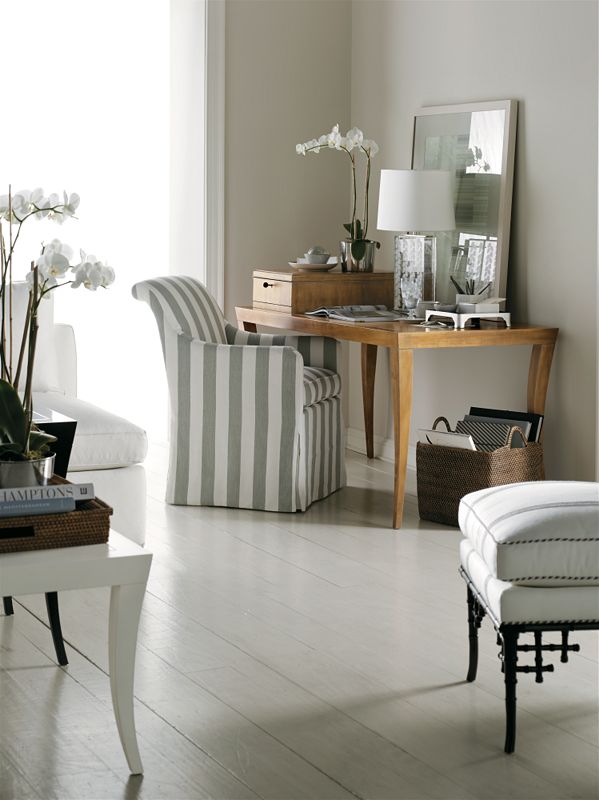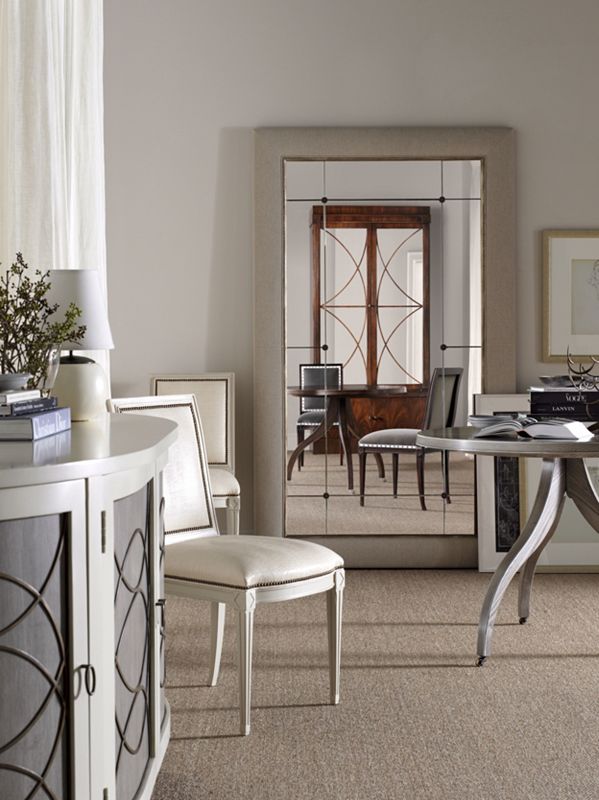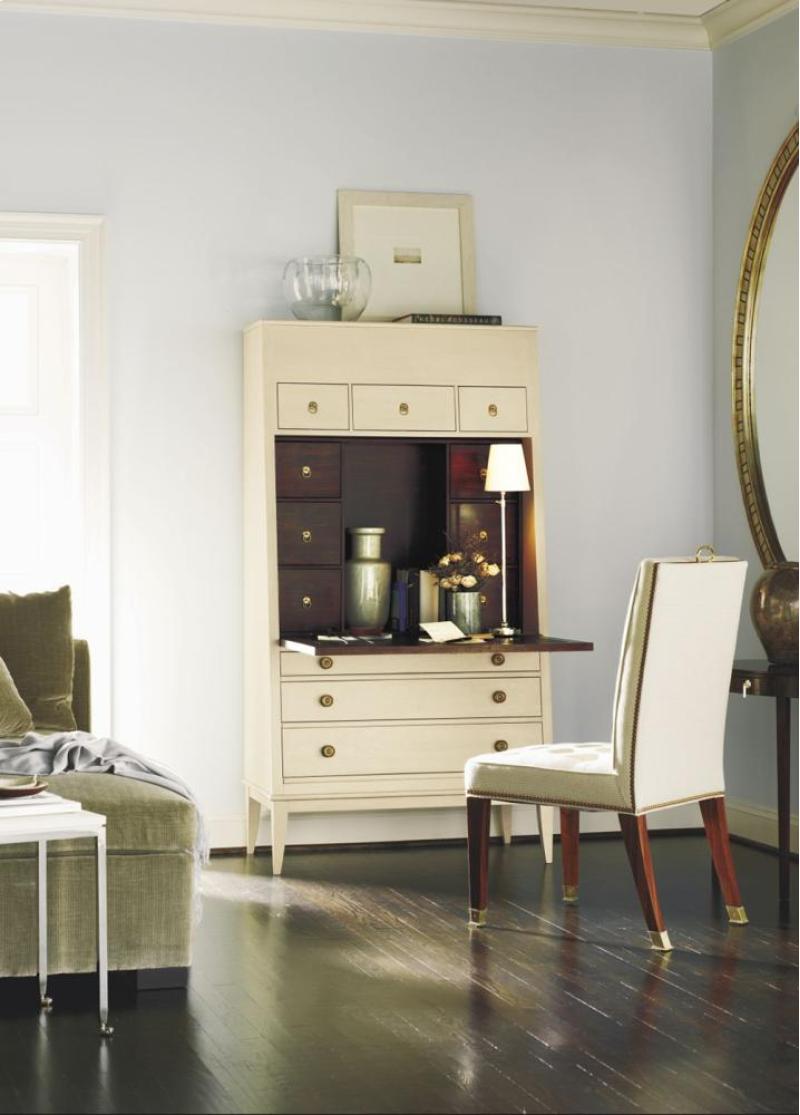 Lately it seems that durable pieces of furniture look...well, durable. Not stylish. Not luxurious. Not achingly beautiful. And the pieces that I typically do pine for simply aren't designed to endure the challenges that my husband and tiny daughter are sure to put them through in years to come.
I've scoured catalogs, showrooms and web sites in search for pieces that look sensational and can hold up over time. I've spent the past few years convinced that these pieces existed. There must be furniture that gets better with age. Louis Vuitton luggage, a prized vintage bottle of Lafite Rothschild, George Clooney...some things simply improve with age.
So surely a settee, a sofa, an end table, a dining room chair could look as timeless and grand in 20, 30, 50 years as they do today. Well...they do. I've seen them. I've sat upon them, I've touched them, smelled the kiln dried wood that they are made from and - yes - met the man largely responsible for their beauty.
Ron Fiore, creative director for Hickory Chair, is a creative visionary with a "venti cup" outlook on design. Rather than ask why, he and the team at Hickory Chair ask "why not?" The result is a brand of furnishings unlike any I've ever seen. Handcrafted, made in the United States, allowing customization down to the most minute details. This, my friends, is the very furniture I've been seeking for years. Sophisticated, sexy, classic and timeless.
I had the privilege of asking this creative genius pressing questions about style, today's clientele and even what lies beneath the lid of that Venti cup. Ron shared so much insight that I've decided to break this into two posts. Pour yourself a fresh cup and settle in to see what he has to say today...
ON FASHION
You worked in the fashion industry prior to becoming Creative Director for Hickory Chair. There's certainly a visual dialog between trends in fashion and changes in how we style our homes. How strong of an influence would you say the fashion industry has on home furnishings? How do you consider those changes in your work?
Fashion has a huge influence in home furnishings. By the way, I just saw a fabric collection by TRINA TURK for Schumacher. It was awesome. It really, really looked like her clothing. The color is amazing. Anyway, fashion is a part of our culture. Incorporating it into the home is a bit more difficult. Clothing and accessories are more "throw away". Furniture and renovation projects are more permanent. For us fashion works best as an accessory….. Throw pillows, bed dressings, accent lighting……you get the idea. Design and fashion oriented fabrics are great for wood frame chairs, large ottomans, fabric covered screens, accent type furniture, etc. because they are easily and cost effectively recovered and changed out. Very tailored slip covers are also great for this reason. Paint is another great way to refresh a space and create a "fashion moment".

A very long time ago, I worked on a study about HOW WE DRESS vs. HOW WE LIVE. The most interesting thing that came out of it was the greatest percentage of people who dressed classically usually lived very classically or minimally. But, the greatest percentage of people who dressed modern and chic usually lived with a more vintage style………I'm taking COUNTRY here. Interesting…………………right? But, that was a long time ago. I often wonder if that has changed a lot since that time.
ON THE MODERN CLIENT
Customers are so informed today. We know what's happening on the runways, we've seen interiors of otherwise private homes around the world and we've got an eye on international style thanks to technology and our the ease of international travel. Even ten years ago this kind of VIP access to otherwise elite information was almost unimaginable. Customers are more informed or at least more interested in design, it would seem. What observations can you make about designing for the more informed client?
People are more informed about design. Many people just don't know where to start. There are many, many beautiful images out there. Some are "staged" within an inch of their life. But, I think the bottom line is what are their needs or how do they live……being honest. Are they a cook, do they work at home, do they have children, do they entertain a lot, etc. I also like to take a look in their closet……how they dress or favorite things. Checking out their personal style is essential. If someone doesn't wear color or pattern, they probably can't live with it either. She may have a closet full of black /white and neutral clothing, but the handbags, shoes and accessories are vividly colored. Which, for me, would mean a whole house full of neutral backgrounds with colorful accessories…………..simple, right? Favorite possessions are another indicator. At some point it all should come together.
ON CLASSICS
There's a lovely quote from you regarding Alexa Hampton's collection for Hickory Chair: "I think that the whole world has been looking for what's the next traditional. And this may be it." It's an interesting way to phrase it... "the next traditional." How would you describe today's "traditional" look and what does that say about how we live? Are we rejecting the past? Embracing it? Where do you see us going in terms of interior style?
Never, ever in a million years ever reject the past……………reinvent it. Today's classic look is not all buttoned up. It is very easy, personal and livable. We don't live in museums. We are using all of our living spaces. Alexa's collection is all about that. It's all about comfort. It's all about mixing it up. These are great classic pieces that mix well with both antiques and modern furnishings.
ON MUSES
In the showroom, you mesmerized us with tales of various muses. Sometimes it's a destination, a shop, an object, etc. But I am always intrigued with the idea of a person as muse. I've often wondered...how closely do you like to work with a muse. Is it a glimpse from across the room and an idealized vision of his or her lifestyle that fuels the imagination? Do you like to leave most of it to mystery or does it help to get to know them? Do tell...
I gotta have a muse. It makes all the work interesting. When you are merchandising a showroom as big as ours that character becomes apparent without even knowing what the story is all about. The muse creates a visual dialogue or reference………….it creates a familiarity. "This reminds me of something" ……………you know what I mean? And, you know, that glimpse from across the room always works for Hickory Chair.
Ron shared so many insightful observations that it warrants two separate posts. Tune in tomorrow to find out where he goes to get away, his thoughts on collaboration, what his favorite pieces are and - last but not least - what's keeping warm under the lid of that venti cup.
ON COLLABORATION
Hickory Chair has teamed up with some amazing designers to create collections. Suzanne Kasler, Thomas O'Brien, just to name a few. It takes confidence to invite the disruptive force of outside ideas and opinions. Is it challenging to ensure the capsule collections relate the "whole" of the company's furnishings? How does the collaboration process work? What is it about these designers that make them ideal for collaboration?
"The collaborations between Mariette Himes Gomez, Alexa Hampton, Suzanne Kasler and Thomas O'Brien are amazing. These are real people. Each one of these designers brings something unique to Hickory Chair that complements the other and the architecture of our merchandising philosophy. They are family…………..family with great style."
ON GETTING AWAY FROM IT ALL
In my mind it would be a dream come true to design beautiful pieces of furniture. The concept...the sketches, the revisions, the finished work. It is an amazing profession. But we all need to get away once in a while. Where do you go to relax and refuel? Do you love to travel? What does Ron Fiore do to recharge his creativity?
"It's great when it all works. At the end of the day though, it's most gratifying when you get an order……you know what I mean?

Honestly, I have traveled all over the world and have worked in amazing, amazing places. Never in my life would I have thought I would have been allowed such a life. But, I actually love to stay home, clean, move things around, read, watch sports on TV. I'm kind of boring, really. Books allow me to recharge and refuel. I am able to travel in my mind. Been there, done that.

I was at an event recently (you know I am not going to tell you where or what) and was told the event was designed in the Belgian style. Unfortunately my response was "Have you ever been to Belgium?" Travel makes you honest."
ON PLAYING FAVORITES
I must know... what are some of your favorite pieces and why?
"Hands down it has to be the Hallings Secretary from the Thomas O'Brien Collection. That piece just works……..with anything."
FINALLY...JUST WHAT ARE YOU DRINKING IN THAT VENTI CUP?
"I am typically sipping an Americano with WHOLE milk and REAL sugar OR I drink an espresso doppio with sugar………not in the Venti cup."
Ron's take on coffee pretty much sums up my view of him as a designer and by extension, the essence of the Hickory Chair brand. The focus is on top quality ingredients and authenticity. There are no shortcuts, no substitutes, no quick fixes. Start with the best and the results speak for themselves.
Thank you, Ron, for taking time out of your busy schedule. We look forward to seeing what your next muse inspires you to create!