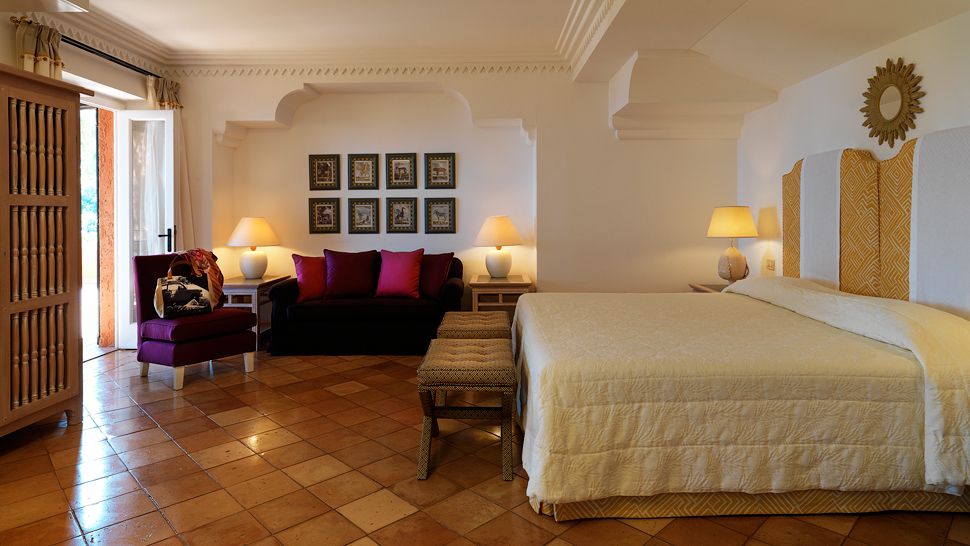 Italian hotels don't get much better than this one. Nestled on Italy's picturesque Monte Argentario peninsula, Il Pellicano is the stuff of legend. The terracotta-hued beauty is perched on a cliff overlooking the Mediterranean Sea in Tuscany's famed Chianti wine region (surprise, it's not just rolling hillsides and farmhouses there). This is a legendary hotel that draws a crowd of the world's rich and famous. The minute you set foot on the hotel's grounds, you will understand why. While the rooms are exquisite, it's the pool that offers guests the main attraction. Turquoise waters as far as the eye can see.
This magnificent boutique hotel has all the makings of a dream destination. A long line of famous (and infamous) guests, epic views, signature martinis and incredible exclusivity make this a hotel worth the journey. Offering only 50 suites, you'll enjoy views of the crystalline sea in relative privacy during your stay. Although it may behoove you to wear dark sunglasses so as to peek at the low-key celebs and who's who's tanning themselves and sipping on those signature cocktails.
What famous faces, you may wonder, have enjoyed the same view? Jacqueline Kennedy, Lee Radziwill, Sophia Loren and Emilio Pucci are a few of the more prominent names from the past, but this hotspot is still a much-loved haunt of Hollywood's hottest. On any given week you're likely to run into princes, princesses (real ones) and jet setters of all varieties. But... what do you (yes, you) wear while lounging poolside amidst the rich and famous? I've rounded up some selections for you and your honey to enjoy while living la dolce vita in this historic location.
POOLSIDE DRESSING FOR YOU
Tom Ford Miranda Sunglasses // Mara Hoffman Swimsuit // Omorovicza Gold Shimmer Body Oil
No tugging necessary with this peek-a-boo Mara Hoffman swimsuit. It affords the skin-baring exposure of a bikini with the comfort of a one-piece. Heaven. Legs not quite ready for prime time? Rub up in Omorovicza's shimmer oil and prepare to be amazed at your newly Giselle-like limbs. And sunglasses, dear sweet sunglasses. Tom Ford's options won't leave that imprint on your nose, so they win high points for that. Add a tunic or kaftan and flip flops... you're all set for lounging seaside under an umbrella in the company of movers & shakers.
POOLSIDE FOR HIM

Love to read? Find out why this small Italian hotel has captivated so many for so long by reading Robert Violette's book featuring photography by Slim Aarons.
PRETTY PIECES FEATURED IN THIS POST